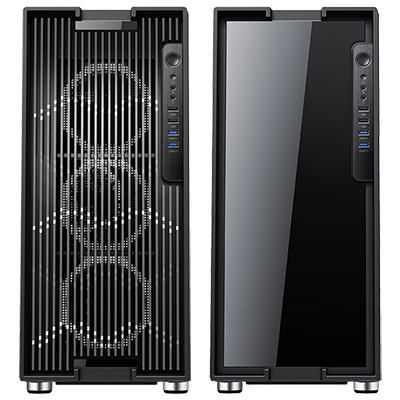 In constant research and development, we put attention to solutions that leave the user with a performance and aesthetic choice.
With the launch of the BYZON chassis, we want to put the accent on the maximum customization of the case and on the public's preference for determining the relationship between performance and image.
In these solutions we have adopted two different front panels, both inside the package and interchangeable thanks to the four convenient screws supplied, one in 4mm tempered glass and the other in entirely perforated ABS. The first one suited to the aesthetics of its setup and the second designed for those who never give up a perfect airflow
It is precisely the flow of air, the prerogative of these solutions, which can be managed independently by the user, thanks to the provision for as many as 8 fans. In the "ADVANCED" version we find 5, of the ARYA ARGB 120mm series, pre-installed, of which 3 are front and 2 on the back, connected to the relative HUB, already known on the market for the ease of management of the extraordinary lighting effect through: controller, the reset button, the supplied remote control or through the motherboard software.
BYZON is an extremely versatile case, which can install in addition to the ATX, mATX and Mini ITX standards, motherboards in E-ATX format. The structure is able to accommodate VGA up to 400mm in length and heat sinks up to 175mm high. Various possibilities for installing liquid cooling up to 240mm, in the front, in the back, or in the lower part. On the front we find 4 USB ports, two of which 3.0.
Another peculiarity is in the position of the feeder, which is assembled in the upper part of the cabinet vertically, to leave all the necessary space for the other components, so that it is easy to assemble, comfortable cable management, here 35mm, and excellent flow air. At the same time, all the hardware to be installed can be proudly admired by the transparent side wall in 4mm tempered glass.
Case BYZON | ITGCABZ10 | Public price 69.90€
Case BYZON ADVANCED | ITGCABZA10 | Public price 119.90€