Innovative trends & futuristic novelties
It's time for news at itek. In fact, today and in the next few weeks there will be several presentations of cabinets that we are sure will surprise you!
Let's start with the new Dark Cave line, designed to once again ride a trend that calls for cubic-shaped cabinets to better optimize the internal space.
Itek DARK CAVE has therefore been designed to meet the demands of users who need aesthetics, performance, versatility, space and ease of assembly in a single solution.
The front and side panels are tempered glass to show the components inside. The side one has a convenient "click" magnetic opening for immediate access to the hardware. Internally the space is huge, it is in fact possible to install latest generation video cards up to 420mm long, 160mm high heatsinks, liquid cooling up to 360mm, various additional fans and cable management is even 95mm. At the top we find in addition to the audio connections, 2 USB 3.0 ports and a TypeC.
DARK CAVE is available in two colors: black and white.
Without losing the range of assembly possibilities, in particular on the dimensions of the video cards, we have thought of the exact same cabinet, in black and white, but in the micro ATX version for those who perhaps do not have too much space available … this is how it was born: DARK CAVE MINI.
The entire Dark Cave range integrates the new UW fan series built with copper shielded bearings for maximum silence, stability and durability. These are latest generation ARGB fans, with a modular interlocking design, connected to each other wirelessly "daisy-chain", which allows for improved assembly, cable management and internal aesthetics, as well as offering an air flow and a strong air pressure. UW fans are all managed by the convenient HUB and relative remote control and, alternatively, by the reset button or directly from the motherboard.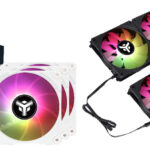 Below are the suggested prices to the public.
ITGCADCAGB Case DARK CAVE – Gaming Tower ATX € 126,90 VAT included
ITGCADCAGW Case DARK CAVE – Gaming Tower ATX White Edition € 129,90 VAT included
ITGCADCMGB Case DARK CAVE – Gaming Mini Tower mATX € 109,90 VAT included
ITGCADCMGW Case DARK CAVE – Gaming Mini Tower mATX White Edition € 109,90 VAT included
ITCFAK3UW12B Kit 3x Fan case UW12 wirelessly "daisy-chain" 37,90€ VAT included
ITCFAK3UW12W Kit 3x Fan case UW12 wirelessly "daisy-chain" White 37,90€ VAT included
For more information: www.itekevo.com
 ITEK Staff
ITEK was founded in 1999 as a high-tech brand specialized in the production of accessories and PC cases. Over the years it has been committed to continuous updates of the product lines in line with the various demands of the market, resulting in being able to offer high-performance and technologically advanced products, always with an eye to sales and after-sales services. In 2016 the renewal of the entire line of gaming peripherals was announced, presenting TAURUS. The PMs have worked on increasing the quality of design and production, as well as renewing them completely design by creating a whole new range of items that will bear the symbol of the bull.
In 2020, ITEK takes a further evolutionary step through the restyling of its brand and the related launch of various products in the catalogue with a new logo.