The gaming chair is confirmed as one of the most popular products in the enthusiast market and iTek, always attentive to market demand, continues its evolution, offering new models, new colors and new features. Users have always seen quality, style and excellent price. Added to these features is the powerful functionality due to the ergonomic design that allows to improve and optimize the posture during long gaming or work sessions, obtaining great benefits.
Taurus P4, here is the name of the new series.
This wraparound model is made with an exclusive design, covered in polyurethane synthetic leather, and offers
a generous padding in addition to the backrest and seat, also in the armrests. The chair is height adjustable and can be rotated 360 °.
Moreover, since the eye also wants its part, it is proposed in different color combinations.
There are 5 colors for the Taurus P4 version, the predominant color is black, and the details are finished in the following shades: black, green, blue, red and white.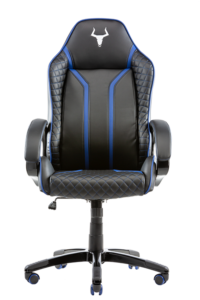 The suggested price is € 149.9 VAT included
Comfort, sturdiness and style are confirmed key words for the Taurus by iTek Gaming Chair.
All the packages include the instruction booklet and the relative components for the assembly that turns out simple and fast.