The gaming chair is confirmed as one of the most requested products in the enthusiast market. iTek chooses to continue to follow the trend thanks to the more than positive response received so far.
Users have always noticed quality, style and excellent price.
Added to these features, the high-performance functionality, due to the studied ergonomic design, allows to improve and optimize the posture during long sessions of play or work, drawing great benefits from it.
Taurus E1, this is how we named the new series.
This model, with exclusive design and pure "racing" style details, is covered in synthetic polyurethane leather, perforated, for better breathability. The chair is equipped with two cushions, a headrest and a lumbar cushion:
it is allowed the recline of the backrest, the adjustment of the height and of the armrests (angular and in height) and moreover it is 360 ° turnable.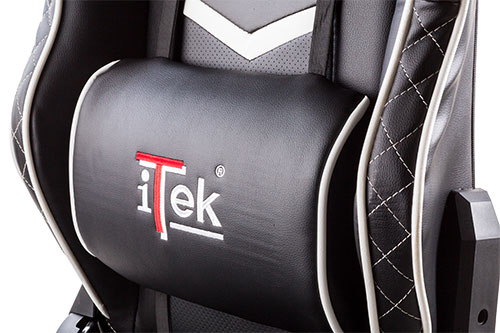 Minimal, but fashion detail is the new "quilted" effect on the backrest profile and on the seat, in the same color as the chair finishes, color also taken up in the central part and on the star base. The star base is produced with "nylon" material that certifies its solidity, resistance and durability over time. The upholstery, with a consistent padding, is very nice and comfortable.
There are 5 colors for the Taurus E1 version of iTek gaming chair, the predominant color is black, and the details are finished in the following shades: green, blue, white, red, and finally a new entry, purple color.
The range of chairs so far composed of 5 versions, Taurus P1, P2, P3, S1 and S2, adds TAURUS E1, with an attractive design, with advanced features and a new color, thus reaching as many as 26 different models in the catalogue.
Comfort, strength and style are confirmed as key words for iTek Taurus Gaming Chair.
All packages include the instruction manual and the related assembly components. Assemble is simple and quick.
For more information: www.itekevo.com