After the successful launch of the new category, here you have the presentation of new features and colors.
iTek fans and the enthusiast audience in general have answered positively to the launch of the new category of gaming chairs. They found quality, style and great price. Users, in addition, note that they have been projected with an ergonomic design that allows to improve and optimize the posture during long sessions of play or work and that it benefits different parts of the body, from the head to the feet.
Today, the range of iTek chairs is composed by 3 versions. Now it is expanded with two new series, S2 and P3 introducing a new color and evolving into features and reaching as many as 20 different models in the catalogue. Another news concerns the different color combinations, on both series, which allows us to offer a more sober but appealing solution. Finally, it is possible to notice the change in the texture of the seams in the central part.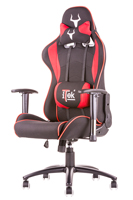 Starting from the S2 line, the chairs are upholstered in fabric such as for S1, always equipped with two cushions, one for the head and one for the back. It is allowed the recline of the backrest and it can be turned through 360°.
The real news lies in the possibility of adjustment (angularly and height) of the armrests. The combination of colors in red and green has been reversed, and it is added to the full black version.
The three versions are offered with a suggested retail price of € 209.90 including VAT.
Same price positioning for the new P3 series, which maintains the appealing shapes of the previous P2.
They are lined with polyurethane synthetic leather and equipped with double cushions: a headrest with the symbol of the bull and a lumbar pad with the iTek logo. Backrest recline and height adjustment are permitted.
Also in this case, the armrests are adjustable in height and have a swiveling support on both sides.
The colors available are black-green, black-red and black-yellow.
Finally, after the many requests received on social media, iTek has chosen to expand its color range: after the introduction of the blue nuance at the beginning of Q2 2017, white color is the protagonist. Currently available in the two inverted black-white combinations for the P3 model, in leatherette.
Always careful to market demand, iTek continues its evolution, proposing new models, new colors and new features. And it does not end here … stay tuned!

Comfort, strength and style are confirmed as key words for the Taurus Gaming Chair by iTek.
All packages include the instruction manual and the related assemblage components which is simple and quick.
For more information: www.itekevo.com