We have been working for much time on expanding our catalog which includes more and more items and more product categories. All this has the aim of satisfying the market demand, and above all of our loyal customers, of having an entire configuration with components of the same brand, as well as a setup entirely by itek!
Today we're introducing 5 new keyboards (including one in a mouse combo kit) and 3 mice.
Let's start immediately with the three mechanical keyboards that reveal a real gem of this product launch.
It's called itek X40 and it's a one-handed mechanical keyboard, compatible with most consoles on the market, as well as desktop and laptop PCs of course. It is equipped with the revolutionary Light Strike optical switches, orange series, which use infrared sensors to activate the click, offering a response time of only 0.2ms and guaranteeing over 100 million clicks. This peripheral is equipped with an adjustable wrist rest, 3.5mm headphone jack, 3xUSB, TypeC, customizable RGB lighting, Anti Ghosting and NKeyRollover, Joistick 3D, Turbo key and 4 Macro keys. All in an ergonomic design and materials of the highest level. A keyboard to revolutionize the way you play on console or on PC!
X31 and X50, on the other hand, are high-performance RGB mechanical keyboards with blue OUTEMU switches, equipped with programming and customization software that can be downloaded from our website. Designed for gamers and progamers.
Itek X31 is a very intriguing keyboard, in the upper part it is equipped with semi-transparent material capable of creating incredible RGB lighting effects. It also has 4 handy keys for macros. Multimedia, NKeyRollover, antighosting, polling regulation and Windows blocking are functions that it shares with the X50.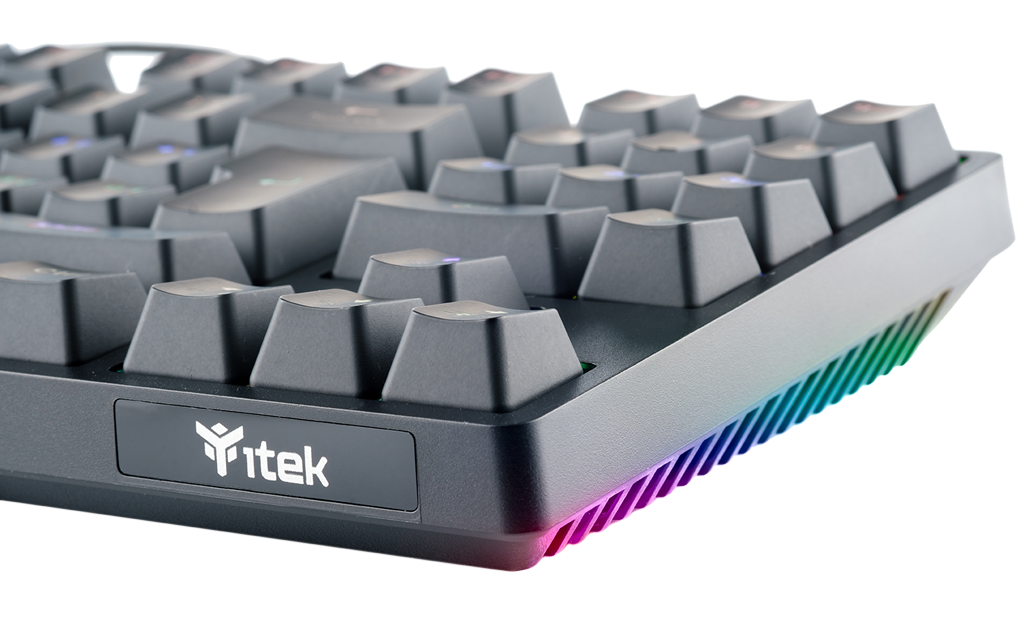 Itek X50 is a compact 90-key keyboard. The unique design which, among other things, allows you to have the numeric pad above the direction keys, an uncommon specification on this type of keyboard. Obviously there is no lack of RGB lighting that is present both in the keys and on the sides, creating an extraordinary lighting effect. It is also equipped with macro functions.
ITKGMCX40 Keyboard X40 €64.90 i.i.
ITKGMCX31 Keyboard X31 €99.90 i.i.
ITKGMCX50 Keyboard X50 €59.90 i.i.
Let's proceed now with the membrane keyboards, it is the turn of the Q11, multimedia and RGB gaming keyboard. It is a very solid, versatile device with a trendy aesthetic. The layout is Italian and you have the possibility to customize the intriguing rainbow backlight, or single color, with sliding, breathing, fixed or off effects. There is an internal chip with antighost function up to 25 keys and multimedia shortcut keys combined with FN. Obviously, the Windows (R) key lock is not missing to avoid accidental clicks during the most demanding gaming sessions!
The keyboard overview ends with the T20 keyboard and mouse combo kit. The Combo T20 consists of a membrane keyboard and a programmable mouse for gamers looking for design, performance and versatility. The keyboard has an Italian layout and the backlight can be customized with various effects. The solid, ergonomic, 6-button RGB mouse is equipped with programming software that can be downloaded from the website. It is equipped with a high-precision PixArt 3212 sensor that allows you to reach up to 4800DPI, offering excellent details and performance. The structure is very stable and balanced, thanks also to the excellent Teflon feet.
ITKGMMQ11 keyboard Q11 €29.90 i.i.
ITKMGMMT20 keyboard and mouse combo kit T20 €44.90 i.i.
Let's continue with our 3 new mice.
All programmable with downloadable online software and equipped with RGB lighting.
Itek G71 is an ultra-light gaming mouse with honeycomb design, 6 keys, solid and ergonomic. Suitable for prolonged use, it is equipped with a very high precision PixArt 3327 sensor that allows you to reach up to 12000DPI.
Itek G61 is an 8-button gaming mouse with Avago 3050 high-precision sensor to achieve up to 4000DPI, formidable performance guaranteed in all circumstances!
Finally, itek G51 with 7 keys driven by a SPCP199 sensor that brings it up to 6400DPI. Structured in a calibrated and resistant way, it is a peripheral with various resources and purposes of use.
ITMGG71 Mouse Gaming itek G71 €39.90 i.i.
ITMGG61 Mouse Gaming itek G61 €29.90 i.i.
ITMGG51 Mouse Gaming itek G51 €19.90 i.i.
Many of the articles presented are already available from our official partners online and offline !!
For more information: www.itekevo.com
ITEK was founded in 1999 as a high-tech brand specialized in the production of accessories and PC cases. Over the years it has been committed to continuous updates of the product lines in line with the various demands of the market, resulting in being able to offer high-performance and technologically advanced products, always with an eye to sales and after-sales services. In 2016 the renewal of the entire line of gaming peripherals was announced, presenting TAURUS. The PMs have worked on increasing the quality of design and production, as well as renewing them completely design by creating a whole new range of items that will bear the symbol of the bull.
In 2020, ITEK takes a further evolutionary step through the restyling of its brand and the related launch of various products in the catalogue with a new logo.